CAMP ACDI
SOLUTIONS SUMMIT
Camp ACDI is not your typical summit; it's an immersive experience designed to empower and inspire you with the latest breakthroughs in the imaging channel. Our mission is to foster collaboration, spark creativity, and equip you with the knowledge and tools needed to drive success in a rapidly evolving landscape.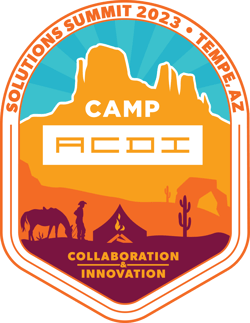 Expert Panels: We've gathered some of the brightest minds in the industry to share their insights and expertise. Get ready to be inspired by thought-provoking talks, panels, and interactive sessions.
Hands-on Workshops: Dive deep into practical workshops where you can gain firsthand experience with the latest solutions and technologies.
Networking Opportunities: Connect with professionals, innovators, and experts who share your passion. Forge valuable relationships that can shape your future endeavors.
Solution Showcases: Discover cutting-edge solutions, products, and services from leading companies in the field. Explore the future all in one place.
Fun and Relaxation: Camp ACDI isn't all work and no play! Enjoy fun team-building activities, outdoor adventures, and evening social events in a picturesque setting.
No need to worry about booking your hotel; we'll take care of the reservation based on your completion of the registration form.
Marriott Phoenix Resort Tempe at The Buttes
2000 W Westcourt Way, Tempe, Arizona, USA, 85282
If you would like to check out where we'll be staying, visit their website below.
If you are traveling by air, you will fly into Phoenix Sky Harbor International Airport.
The resort does not offer shuttle services to or from the airport, so you will need to secure transportation to the resort.
We recommend securing a ridesharing service such as Uber or Lyft.
Unless you need a vehicle for personal reasons, we do not feel it's necessary to secure a rental vehicle for your experience. Any other travel scheduled during the summit will be provided by ACDI.